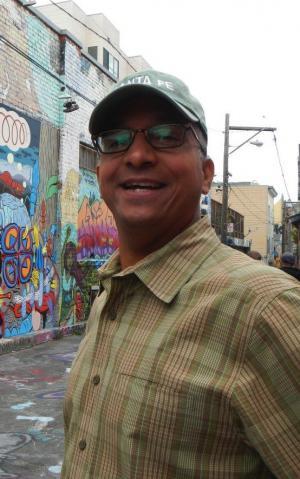 Affiliated Faculty
Environmental Studies
Specialization
:
Environmental Justice Studies, Race and Ethnic Studies, Social Change, and Social Movements
Education
:
Ph.D., Sociology, Northwestern University
Bio
:
Professor David N. Pellow is the Dehlsen and Department Chair of Environmental Studies and Director of the Global Environmental Justice Project at the University of California, Santa Barbara where he teaches courses on environmental and social justice, race/class/gender and environmental conflict, human-animal conflicts, sustainability, and social change movements that confront our socioenvironmental crises and social inequality. He has volunteered for and served on the Boards of Directors of several community-based, national, and international organizations that are dedicated to improving the living and working environments for people of color, immigrants, indigenous peoples, and working class communities, including the Global Action Research Center, the Center for Urban Transformation, the Santa Clara Center for Occupational Safety and Health, Global Response, Greenpeace USA, and International Rivers.
Pellow's research has included:
1. Supervising a group of UCSB students in developing a Green New Deal for California's Central Coast region in collaboration with the Central Coast Climate Justice Network;
2. Leading a collaboration between UCSB and the Central Coast Climate Justice Network to advance our knowledge base concerning fossil fuel development projects in the region and to support campaigns that promote energy and climate justice;
3. A study of how environmental privilege and environmental racism shape the local ecology and life chances of native born and immigrant residents of Aspen and Colorado's Roaring Fork Valley;
4. A study of radical environmental and animal rights movements' goals, successes and failures, and the impact of government repression on these activists who are frequently labeled "eco-terrorists."
5. A study on conflicts over the disproportionate location of garbage dumps and incinerators in communities of color in Chicago from the 1880s to the 2000s
6. A study of immigrant and working class laborers and environmental justice activists who pushed Silicon Valley companies to become more attentive to demands for sustainability, environmental justice, and occupational safety and health
Publications
:
Click here (ADD LINK) to view a full list of David Pellow's publications.
Courses
:
ES 116: Building Sustainable Communities
ES 146: Animals in Human Society
ES 180: Global Environmental Movement
ES 181 Power, Justice, and the Environment