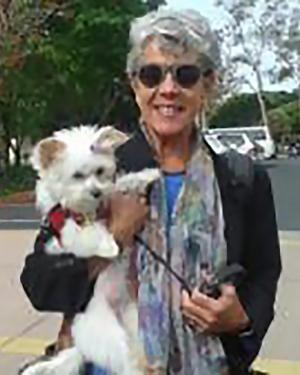 Affiliated Faculty
Feminist Studies
Specialization
:
Women's Movements,
Sexualities,
Transnational History
Education
:
Bryn Mawr College, 1973-1976
Ph.D. 1976, modern European and modern American history 
Bio
:
Areas of Study:
Women's Movements
Sexualities
Comparative and Transnational Women's History
I began college in 1968, a revolutionary year, and I attended an elite women's college, Bryn Mawr, just outside Philadelphia. It was an incredible privilege to be in a place where women were taken seriously. In the summer of 1969, I was in Cambridge, Massachusetts, and I saw a poster advertising what was then called "Female Liberation." I also read Simone de Beauvoir's The Second Sex that summer, and I was hooked.
There was no such thing as women's studies, but my professors were very supportive of my passion for studying women in all of my classes. Kate Millett came to Bryn Mawr to teach a class just after the publication of Flying, and I sat in on her class. I also had an amazing class in what was then called Afro-American History with Herbert Aptheker, the first class he was ever hired to teach. Most of the activism on campus was around the anti-war movement, but the general atmosphere of feminism was very strong.
I majored in history and wrote an honors thesis on women in the labor force in Nazi Germany, and I decided to go to graduate school to study German women's history. That wasn't so easy in 1972. I had a false start at the University of North Carolina, where I found no support for my interests, so after a year there, I went back to Bryn Mawr, which had a very small graduate program, in order to work with my undergraduate advisor, who wasn't a women's historian but was incredibly smart and supportive. I ended up writing a comparative dissertation on the mobilization of women into the labor force in Germany and the United States during the Second World War, having discovered the joys of U.S. women's history.
When I went on the job market, I found that my comparative training in U.S. and European history hurt rather than helped me because positions in history are so structured around the nation state. After teaching for a year in a temporary position at the University of Pennsylvania, I was fortunate to be hired in a women's studies/women's history position at Ohio State University, where I stayed for 25 years.
I was the first faculty member in women's studies at Ohio State—and the Office of Women's Studies wasn't even an academic unit. Student protests had resulted in the setting up of the office, and there had been some courses taught by graduate students and a few courses taught by faculty members within their own departments. I helped to build a curriculum, hire other faculty, develop a minor and major, and do all the things that make a place for a new discipline within the university. I learned a lot quickly!
In 2002, I had the good fortune to be hired by the Women's Studies Program at UC Santa Barbara. I served as chair from 2004 to 2008, and am now graduate chair and associate dean of the Division of Social Sciences.
I think that feminist studies, bridging the social sciences and humanities as it does, has the potential to prepare students for a wide variety of careers. Some of the undergraduate students I have taught have gone into the public sector, working for a variety of social service agencies or NGOs. One student became a freelance writer. Others have gone to medical school, law school, or graduate school. There are so many fields that need people with analytical abilities and good writing skills. Feminist studies combines basic skills with specific knowledge in a way that opens up many possibilities.
I am excited about the new challenges of our graduate program in feminist studies and enjoy welcoming each new cohort of students.  Over the course of my career, I have advised 23 PhD students to date.  Among them are Frances Hensley, Professor of History and Dean at Marshall University; Christine Anderson, Associate Professor of History at Xavier University; Shirley Yee, Associate Professor of Women's Studies at the University of Washington; Jan Leone, Professor of History and Interim Acting Dean at Middle Tennessee State University; Virginia Boynton, Professor of History at Western Illinois University; Cynthia Wilkey, Associate Professor of History at the University of Virginia at Wise; Penny Messinger, Associate Professor of History and Government at Daemen College; Sue Wamsley, Assistant Professor of History at Kent State University at Salem; Susan Freeman, Associate Professor of Women's Studies at Western Michigan University; Heather Miller, Historical Research Associates, Seattle; Stephanie Gilmore, Assistant Professor of Women's Studies at Dickinson College; and Carolyn Lewis, Assistant Professor of History at Louisiana State University.  My current graduate students are working on a range of topics connected to sexualities.
Courses
:
Feminist Studies 150H: Students in the Honors section for Sex, Love, and Romance create a zine as their final project.