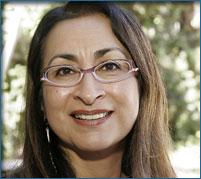 Professor
Diversity Representative
Office Hours
:
Monday, Wednesday 9:30am - 10:45am for 144LA
Monday, Wednesday 11:00am - 12:15pm for 153
Specialization
:
Chicana and Chicano Studies, feminist studies, gender, family, work, race-ethnic relations, education
Bio
:
Dr. Denise A. Segura is Professor of Sociology and Affiliated Professor in the Department of Chicana/o Studies, Program in Latin American and Iberian Studies, and the Women's Studies Program at the University of California, Santa Barbara. She specializes in Chicana Feminist Studies, Latina/o education, and Chicana/Mexicana employment. Professor Segura has been at UC Santa Barbara since 1987 and has contributed to the development of Latina/o sociology in the department. She also served as Director of the Center for Chicano Studies from 1994-1999. Professor Segura has been a leader in shared governance having served as the first chair of the Undergraduate Council at UCSB, the academic senate committee that initiates and reviews all campus undergraduate educational policy, from 2002-04. She also served as the Vice Chair and Chair of the UC Systemwide Committee on Educational Policy (UCEP) from 2004-06. Professor Segura has recently completed an edited volume with Dr. Patricia Zavella (UC Santa Cruz) titled, Women and Migration in the U.S.-Mexico Borderlands: An Anthology (Duke University Press, 2007).
Courses
:
Among the classes Professor Segura teaches are The Chicano Community, The Chicano Family, Chicanas in Contemporary Society, and Women and Work.  At the graduate level she teaches "Race, Class and Gender," "Sociology of the Borderlands," and "Chicana Feminisms."